The State of Mind programme was established in 2011 with the aim of improving the mental health, wellbeing and working life of rugby league players and communities. We want to get people talking about it. Our team of mental health and sport professionals deliver comprehensive education sessions at no cost throughout the UK in super league, championship and amateur clubs as well as colleges and community groups, aimed at raising awareness of mental health issues within sport. If you are involved with a rugby league club or supporters group and would like to arrange a free State of Mind session for your members you can get in touch via our
contact page
, or visit the
In Your Area
pages to find out what's available where you are.
Whoever you support, you can join the State of Mind Family and be a part of this amazing movement.
Latest News
State of Mind were in Dublin last week and presented to the Irish Minister for mental Health (Kathleen Lynch) The sessions set up by University of Cork (Ned Kelly, Dr. Ian Pickup and Paul Stafford) and massively helped by Dr Martin Lawlor and Dr. Susan Lawlor Danny Sculthorpe, Jimmy Gittins, Malcolm Rae and Dr. Phil [...]

The most competitive First Utility Super League season of all is reflected in the selections of the 2014 Dream Team, the 13 players deemed to be the biggest stars of a year to remember for all Rugby League fans. The all-English Dream Team is drawn from seven clubs and features eight debutants as well as [...]
T-Shirts
Support State of Mind and look good to boot! State of Mind T-Shirts are now available to buy.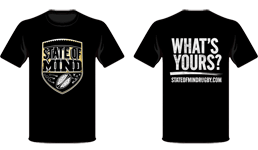 SoM on Twitter
@sleepydeeves
Sarah, yes the RFL do support players the person to contact would be Emma Rosewarne at the RFL check the RFL website&nbsp
Featured clubs